Our Auction Process:
Denis A. Barrett Auctions & Dabbid.com sells more used stock than any other company, including construction stock, farm stock, machinery and much more. We conduct hundreds of unreserved public auctions each year, selling billions of dollars of heavy stock for private individuals and companies of all sizes; we also operate a secure online marketplace called Dabbid.com, for people who prefer to buy and sell privately.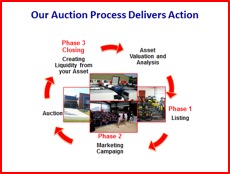 Learn more about selling your stock through Denis A. Barrett Auctions and Dabbid.com auctions, or contact us to discuss your options.
Just a note:
While the company was established since 2003, Denis Barrett the founder of the business has been in the auction business for over 22 years and he has conducted over 1,100 auctions worldwide and he understands your business. We have experience selling all types of Assets/Stock and we have exceptionally good industry relations around the world that will make all the difference when it comes to getting the returns you want and need – So please interview us extensively.
We take care of everything.
When you need your house re-wired or your taxes done, you call a professional—because it saves you time and money in the long run, and gets you the best result.
The same applies to selling stock. We've been doing this for 22+ years. We're known as the experts – and we deliver full-service solutions that help people like you.
Less hassle, better returns.
When you sell your stock with Denis A. Barrett Auctions and Dabbid.com, you have a whole team of experts working for you – sales, marketing, internet services, customer service, accounting and more.
Our all-inclusive service saves you time and money, so you can focus on running your business while we work to get you maximum returns.
Hassle-free, time & money-saving service includes:
Free secure storage
High-resolution photos and detailed online listings
Comprehensive multi-channel, multi-lingual marketing
Care, custody and control
Buyer inquiries and inspections
Organizing and conducting the auction
Post-sale settlements
Every customer – whether they're selling one item or one hundred – is treated to the same courteous, professional service from people who understand your industry and the business.
How we market your stock.
There's a big difference between a simple online listing and active marketing. When you sell with Denis A. Barrett Auctions and Dabbid.com, you reach every potential buyer—local and international, online-savvy and more traditional—so you get the best results.
We have a massive database of qualified buyers, and we target them with multi-channel, multi-lingual marketing, including:
Detailed listings on dabbid.com – our industry-leading, multi-language website
Internet advertising
Email and direct mail
Full-colour auction brochures
Industry publication advertising – print and online
Local advertising – newspapers and radio
PR and social media
Let Denis A. Barrett Auctions & Dabbid.com bring the buyers to you
When you sell with Denis A. Barrett Auctions and Dabbid.com, you benefit from the services of one of the industry's largest, most experienced marketing departments, giving your stock exposure to buyers worldwide.
You also benefit from everything else we do to attract buyers:
Strictly unreserved auctions
Search engine optimized, multi-language website, with detailed stock information
First-class auction sites, with stock. available to test and inspect
Industry-leading, user-friendly online bidding platform
Clear title, or we'll offer the buyer a refund
Up to 100% auction financing available
Financing, shipping, insurance and other services
Not finding what you want? Reach out directly through our Contact Us page or Contact us confidentially to discuss any of your strategic restructuring & corporate recovery requirements.
To schedule a consultation with us, then drop us a line! or why not call, +353 (0) 86 410 9848
You can also stay in touch via LinkedIn, Facebook and Twitter.